BEL AIR
If you're looking for quaint Main Street charm, a bustling shopping and restaurant district, and the best schools around, look no further than the county seat – Bel Air. Rising up from a pastoral rural landscape, the last twenty years have seen Bel Air grow into a thriving suburb of modern convenience and family friendly neighborhoods while holding onto its rich farm heritage, as evidenced in various farm markets, agricultural school programs, and a dotted landscape of rustic barns and horses.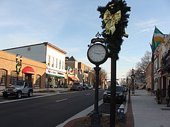 Main Street is home to numerous small independent boutiques, offices, and restaurants. Whether you're craving a cup of coffee, some authentic Irish cuisine, or perhaps a little breakfast al fresco in the warm summer sun, you'll find it here. Not far from Main Street lies Harford County's largest gym – Bel Air Athletic Club. A very popular place any time of day or night, BAAC offers state-of-the-art equipment, year-round swimming, and a host of fitness classes. They also have an in-house preschool program, a very cool indoor tree house for the young crowd, and childcare for its members.
Neighborhoods in Bel Air are comprised of mostly sidewalk neighborhoods where you're likely to find children riding their bikes and people out working in the yard on a Saturday afternoon. Bel Air also spans the full spectrum in housing affordability – from apartment complexes to townhome and executive townhome developments to senior living, condos, tract homes, and multi-million dollar estates – you'll find it all within the town limits.
While Bel Air is home to a couple of private schools for those who choose, the public schools are among the highest rated in the state. There simply isn't a bad one among them. You'll find school pride as well as county sponsored recreational sports aplenty. Kids will also enjoy the variety of planned in-town activities like the annual July 4th parade and festivities, the Christmas parade, and Main Street trick-or-treating to name just a few.
The primary shopping and dining area of Bel Air is located at the intersection of Routes 1 and 24, also known as Bel Air Road and Vietnam Veterans Memorial Highway. Here you'll find Harford Mall, craft stores, pet stores, ample grocery options, Home Depot, furniture galleries, a variety of chain restaurants, and even the famed Flavor Cupcakery, winner of Cupcake Wars on the Food Network. Bel Air also has a large and growing medical center in Upper Chesapeake.
If you're craving more nightlife or a more urban atmosphere, Bel Air is less than 30 miles from downtown Baltimore, home of the Orioles and Ravens as well as the Aquarium, Science Center, and a large variety of other attractions.